Version 3.5 of FLOW-3D Cast features new capabilities to model iron solidification and shrinkage, cavitation potential, prediction of core gas generation, and sand core blowing and core and mold drying. A new permeable mold model is available to model air escape during filling. In addition, users can make use of temperature-dependent material properties to more-accurately predict solidification-related defects. An updated graphical user interface, increased speed and an integrated CAD translation tool are also part of the new release.
Read the What's New in FLOW-3D v3.5 >
Download the FLOW-3D Cast v3.5 feature list >
Hardware & Software Requirements
Go here for the latest hardware and software requirements and recommendations >
Get the New Version!
Contact us through our website or call us at 1-505-982-0088 to learn more about purchasing or leasing FLOW-3D Cast v3.5 Basic, Extended or Advanced versions.

The new release is now available for download by FLOW-3D Cast users who are under maintenance service contracts.

FLOW-3D is a registered trademark of Flow Science in the USA and other countries.
New Sand Core Models!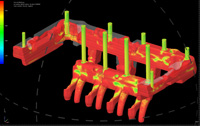 FLOW-3D Cast's sand core blowing model lets users determine the optimum nozzle and vent configurations by varying the number and positions of the nozles that input sand and the number and position of vents that allow air to escape.
Accurate Filling Simulations

Gravity cast of Magnesium RZ5 colored by temperature at end of fill. Cold spots (blue) are due to a chill located internally.